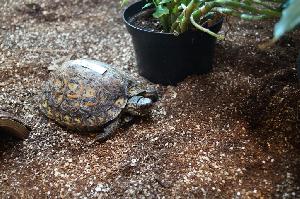 Meet Amidala - Ornate Wood Turtle!
Age: Adult
Length: ~7" long.
Adoption Fee: $55
Amidala is a somewhat shy turtle. He loves to burrow, and to soak in a shallow pond. He can live outdoors during the summer, but being of South American origins, needs to live awake indoors during the winter, preferably on some type of turtle table.
View Specific Care needs!